info
---
Marie Doerfler is an illustrator and visual artist based in Vienna/Regensburg.
Her illustrations are deeply influenced by nature, museum visits and everyday observations. They are developed in a playful way of perspective and proportion between graphic structure and the fluidity of living lines. A defining aspect of her work is the influence of print making, characterized by layered colors and textures. The aim of her illustrations is to convey knowledge in an emotional and humorous way, to tell stories and to invite one to dream.
She studied communication and graphic design at TH Augsburg, Falmouth University and illustration at HAW Hamburg. Since then, she has been working for publishing houses, magazines, cultural institutions as well as companies and was awarded with the World Illustration Award in the Advertising Young Talent category.
---
feel free to get in touch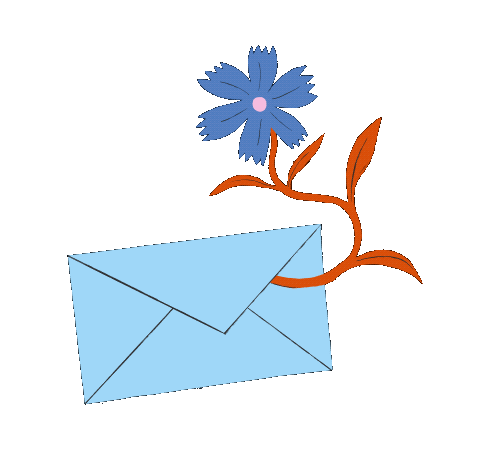 ---
contact@mariedoerfler.com
instagram
behance
Imprint


Member of
Illustratoren Organisation
VG-Bildkunst
* 1993 in Regensburg
education
---
2018–22 MA Illustration
University of Applied Sciences, Hamburg
2013–17 BA Kommunikationsdesign
University of Applied Sciences, Augsburg
2015–16 BA Graphic Design
Falmouth University, UK
awards
---
2023 Stiftung Buchkunst
Kinderbücher, Jugendbücher, Longlist
2022 MGIP Book Award
Childrensbook, Winner Gold
2022 Joseph-Binder-Award
Bilderbuch, Longlist
2021 AOI – World Illustration Awards
Advertising, New Talent Winner
2021 The Finalist Illustrator Exhibition
Bologna Children's Book Fair, Shortlist
2019 Vamos Eltern-Kind Reisen
Illustratoren Wettbewerb, honorable mention
2019 Goethe-Institut-Italien
Kannst du Rad fahren?, Shortlist
2018 Buntspecht
Nachwuchspreis für Bilderbuch Illustration, Shortlist
interviews / feature
---
2023
Stadt Regensburg

2022
Baunetz id

2022 ex Magazin Heft 6
2022 Page Online
2021
Sieben auf einem Strich
2021 AOI Showcase
2021 CREATIVE BOOM
2021 Wohn!Design
2021 Kiblind Magazine
2021 [more]
clients
---
BrigitteMOM
Dr.Hauschka
Geschichtenpraxis Cordula Gerndt
Goethe Institut
Edizione Cento Passi
HAW Hamburg
Human Empire Shop
Lesezirkel Ruhrgebiet
Monterosa Verlag
[more]
Noéma Magazin
Private Akademie Andreasstadel
Stadt Regensburg
Stan Hema
TYXart Studio
Tate Publishing
Woow Books
…
books / published
---
2023 Meet the Artist: Piet Mondrian
tate publishing
ISBN 978-1-84976-847-4

2022 Dornröschen fährt Achterbahn
Monterosa Verlag
ISBN 978-3-942640-17-6
artist in residence
---
2022 Sasso
Residency
Ticino, Switzerland
workshop / lecture
---
2018/19 Illustration & Drawing
Private Akademie Andreastadel, Regensburg
live-drawing
---
2022 Luisa Funkenstein
Pop Kultur Festival, Regensburg
2022 Luisa Funkenstein
Zentrum für junge Kultur, Regensburg
2018 Luisa Funkenstein
Kurzfilmwoche, Regensburg
exibitions
---
2024 zffk
Solo exhibition
2023 GRAZifikation
Kunstverein GRAZ Regensburg M26, Group exhibition
2023 Vibrant Dimensions
Underbridge Urban Art Festival Innsbruck, Group exhibition
2023 Den Himmel in den Gassen einfangen
Städtischen Galerie im Leeren Beutel Regensburg, Group exhibition
2022 Alpennordseitig
Underbridge Urban Art Festival Innsbruck, Group exhibition
2022 World Illustration Award

Gree Coast Gallery Zhuha and Duo Yun Xuan Art Center Shanghai, International Touring exhibition

2022 8th International Lithographic Symposium
Lithographic Academy in Tidaholm Sweden, Group exhibition
2022 [more]
Salon de Mobile Milano
2022 Little big books
Goethe Institut Bologn, Group exhibition
2022 World Illustration Award
Tonbridge School UK, International Touring Exhibition
2021 Sai andare in bici?
Goethe-Institut Lille, Group exhibition
2021 What happend until now?
Bologna Children's Book Fair, online gallery
2019 Heimat Fabrik der Künste Hamburg and Casa Tinta Bogota, Group exhibition
2019 Kannst du Rad fahren?
Alliance Francaise Bologna, Group exhibition
2019 Secrets Riso
HAW Hamburg & Parsons The New School Summer New York, Group exhibition
2019 Hamburger Bilderbuchpreis
Fabrik der Künste Hamburg, Group exhibition
2018 Buntspecht Bilderbuchpreis
Akademie für Illustration und Design Berlin, Group exhibition
2018 Danubia
24-Gallerie Regensburg
Danubia, Group exhibition
2018 GRAZifikation
Kunstverein GRAZ Regensburg, Group exhibition
2013 Ich & Ich
Galerie konstantin b Regensburg, Group exhibition

(selected)